NEWS
Current News
Chairperson Meredith Snow (Los Angeles), Treasurer Michael Moore (Atlanta), Editor Peter de Boor (Kennedy Center), and Members-at-Large Greg Mulligan (Baltimore) and Dan Sweeley (Buffalo) were re-elected to two-year terms of office at the 2018 Conference in Cincinnati OH. Dan Sweeley was elected AFM Convention Delegate; Martin Anderson (New Jersey) was elected Alternate AFM Convention Delegate for the AFM triennial convention that will be held in June 2019. For the official press release, click here, or to read more on this website, click here.
Bruce Ridge authors book on ICSOM. Read more here.
The ICSOM Directory is now searchable online. Current and Emeritus members must sign in to access this service, which can be found under the REFERENCE tab, or click here.
COMPOSED: Special Event Screening Guide about performance anxiety and orchestra musicians ... download PDF.
Of continuing interest
Pension Fund information:
Register on the AFM-EPF website "Participant Portal" to access your Pension Fund information. For assistance call the Fund Office at 1-800-833-8065, x1295.
Visit website.
ICSOM: The First Fifty Years (Documentary)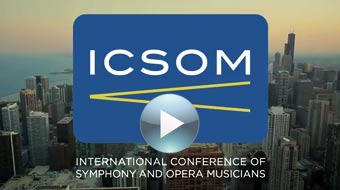 More than Meets the Ear, by Julie Ayer:

We have copies available for purchase of Julie Ayer's wonderful book about the history of ICSOM. for payment instructions and shipping arrangements. The cost including shipping is $21.00.