Welcome to the
ICSOM Website
Welcome to the website for the International Conference of Symphony and Opera Musicians (ICSOM). Founded in 1962, the mission of ICSOM is to promote a better and more rewarding livelihood for the skilled orchestral performer and to enrich the cultural life of our society.

ICSOM represents over 4,000 musicians from 52 major symphony orchestras throughout the United States, and is a Players' Conference of the American Federation of Musicians.

One of the missions of ICSOM is to facilitate communication among its member orchestras and among all members of the greater musical community, offering support and assistance wherever needed. Our website is designed to assist in that communication, with the complete archive of ICSOM's newsletter Senza Sordino, links to our member orchestras, and other current and historical information.

ICSOM celebrates the great history of symphonic music, but prepares for an even greater future through advocacy for the livelihood of our members, and for a thriving future for symphonic music and the arts in America.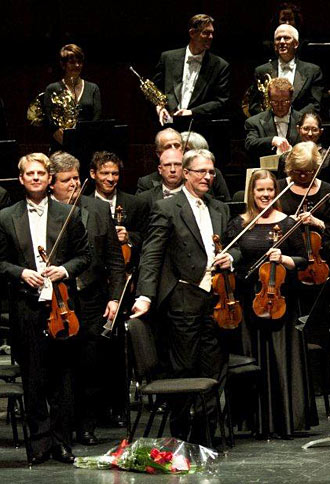 Photo credit: Jon Christopher Meyers
Recent
news
Bruce Ridge authors book on ICSOM. Read more here.
2018 Conference Registration is now available here. More information about the hotel is available in this PDF.
The Hilton Cincinnati Netherland Plaza hotel chosen for the 2018 ICSOM Conference, August 22-25...read here.
The ICSOM Directory is now searchable online. Current and Emeritus members must sign in to access this service, which can be found under the REFERENCE tab, or click here.